Regular price
Sale price
€85,00
Unit price
per
Sale
Sold out
👜 Adoptez le sac Hobo gris chiné et son anse en cuir👜
Ce sac porté épaule est plus qu'un simple accessoire! Un mélange subtil de sportswear et d'élégance, il est le sac parfait pour les femmes actives à la recherche de confort et de style. Fabriqué en toile épaisse gris chiné et doté d'une anse en cuir véritable dont vous choisirez la couleur, ce sac fourre-tout est le sac à main idéal pour toutes vos sorties. Avec sa taille généreuse et ses poches intérieures, il deviendra votre compagnon incontournable pour le quotidien.
👜 Le Sac Tendance et Pratique 👜
Ce n'est pas seulement un accessoire tendance! Que ce soit pour servir de sac à main, pour aller en cours, pour voyager ou encore comme une touche d'élégance à votre look, ce sac Hobo est prêt à répondre à vos besoins. Avec son design sportswear et sa couleur intemporelle mais lumineuse, il s'accorde à tous vos styles. Et avec ses deux poches à l'intérieur, y compris une zippée, vos effets personnels sont gardés en toute sécurité.
🇫🇷 Fabrication Française de Qualité 🇫🇷
Votre satisfaction est notre priorité! Chaque Sac Hobo est artisanal et fabriqué en France avec une minutie particulière. De la toile qui le compose à l'anse en cuir, chaque étape de la phase de fabrication se voit dotée d'une qualité exemplaire pour vous offrir un produit de qualité supérieure. Une fois prêt, votre sac arrivera bien protégé et joliment présenté, accompagné d'un numéro de suivi qui vous sera communiqué le jour de l'expédition. Il ne vous restera plus qu'à le garder ou à le offrir.
✍ Personnalisez Votre Sac Hobo ✍
Ajoutez un peu de vous-même à votre sac Hobo! Vous pouvez intégrer vos initiales, un nom ou une courte phrase à l'intérieur. Décidez de le personnaliser au moment de votre achat et pour plus d'informations sur la possibilité de personnaliser votre sac, consultez notre page dédiée!
📦 Un Colis Soigné Pour Vous 📦
Parce que nous savons combien il est indispensable de recevoir un produit en parfait état, chaque sac Hobo est rigoureusement inspecté et emballé avec soin pour s'assurer qu'il arrive chez vous en parfait état, prêt à être porté ou offert. L'emballage soigné de votre sac Hobo garantit que vous recevrez un produit de qualité qui sort tout droit de l'atelier. Vous pouvez le porter ou l'offrir avec confiance, sachant que vous bénéficiez de notre attention et de notre précision jusque dans le détail!
👩‍💻 Rejoignez-nous sur les Réseaux Sociaux 👩‍💻
Suivez Lesfilsdisa sur Instagram et Facebook. Vous découvrirez en avant-première nos nouveautés, nos offres spéciales et promotions et bien plus encore !
Materials

- Toile épaisse gris chiné.
- Anse en cuir véritable.
- Tissu imprimé en coton.

Dimensions

- Hauteur du sac: 32cm.
- Largeur à l'ouverture: 40 cm.
- Profondeur du fond: 16 cm.
- Longueur totale anse en cuir: 66 cm.
Maintenance tips

- Lavage à la main ou cycle laine à 30°C (à l'exception de l'anse en cuir).
- Séchage à plat.
- Repassage à fer doux.
View full details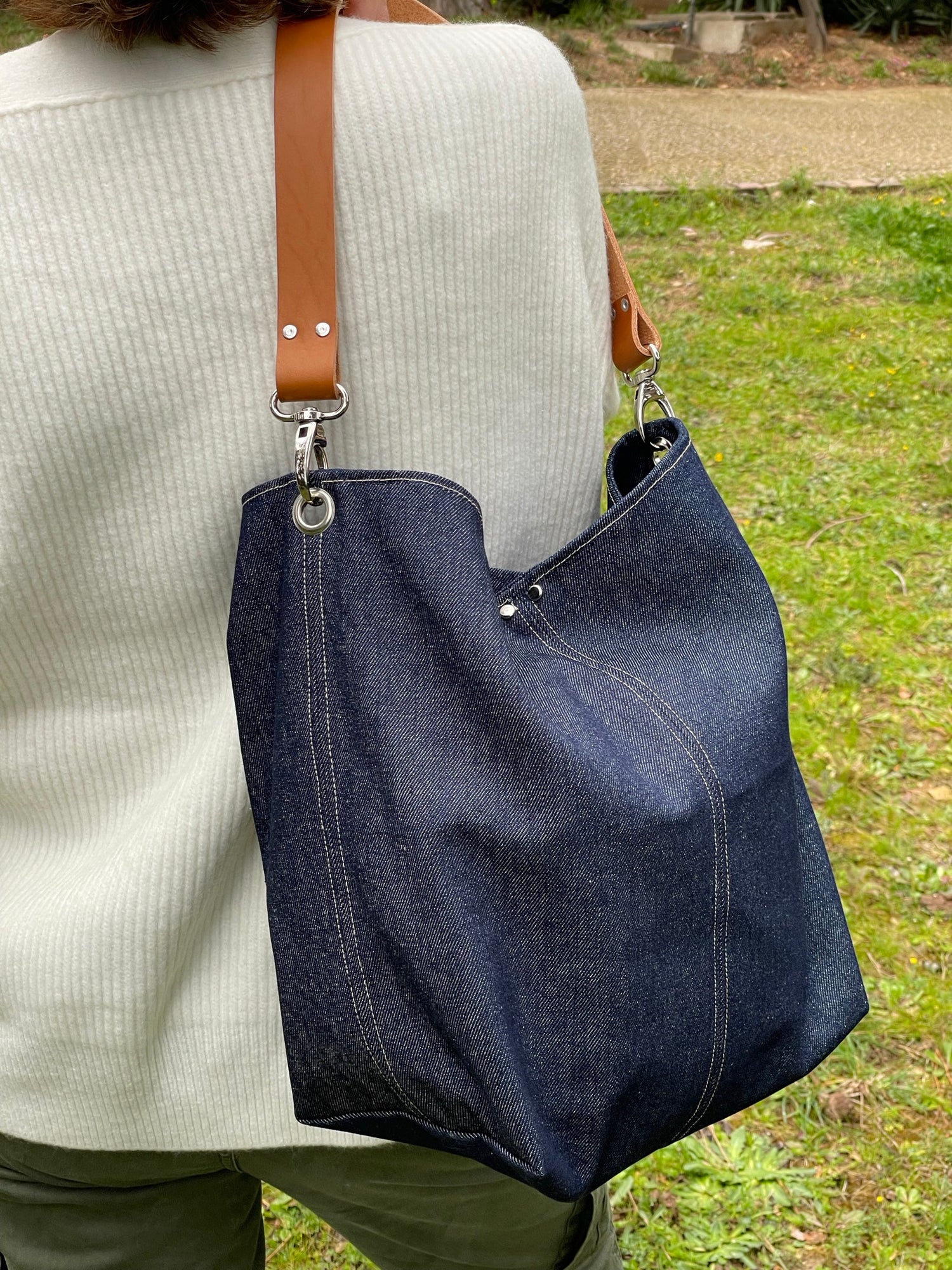 Current news...
The hobo bag , flagship model of the Lesfilsdisa brand ... A practical shoulder bag, a trendy look that comes in many colors to discover in the online store! Discover the brand new model in denim canvas !