Regular price
Sale price
€47,00
Unit price
per
Sale
Sold out
🌲 Portez la banane en vert kaki tendance 🌲
 Le Sac banane en toile vert kaki est un accessoire qui ne se démode pas et qui s'adapte à tous vos styles. Pratique et léger, il offre une protection pour vos effets personnels - smartphone, papiers et bien plus encore. Ajoutez une touche d'originalité avec son style looké rétro années 90 très actuel. Facile à porter avec vos tenues de tous les jours, il peut être porté à la taille, en bandoulière ou à l'épaule pour un look trendy. Un choix sûr pour vous accompagner partout!
 🚲 Pratique en balade, en vélo ou en ville 🚲
Parfaits pour s'adapter à toutes les silhouettes, nos sacs banane sont faciles à porter avec leur anse réglables de 60 à 115 cm. Manteaux et blousons d'hiver ne seront pas un problème! Le sac banane est LA solution de remplacement de votre sac à main pour transporter en toute sécurité et à portée de main vos objets indispensables et votre smartphone! Fabriqué en toile de coton vert kaki, avec son zip métal doré et une doublure intérieure en tissu coton gris foncé.
✍ Un Sac Personnalisé Pour Vous ✍
Personnalisez votre Sac banane en toile vert kaki grâce à notre option de personnalisation et faites un cadeau mémorable à l'occasion de Noël. Faites inscrire quelques mots, un prénom, une date, …  Vous trouverez plus d'informations sur notre page personnalisation. Êtes-vous prêt pour offrir un cadeau unique, personnalisé ? On vous dit tout ici.
🇫🇷 Fabrication D'Artisan D'Art 🇫🇷
Chacun de nos articles est créé avec passion en France, du choix exigeant des tissus qui le composent à la préparation de votre colis, pour votre satisfaction totale! Un numéro de suivi est transmis le jour de l'envoi, vous permettant de surveiller son trajet jusqu'à ce que votre nouvel accessoire arrive en toute sécurité, même prêt à être offert!
🌐 Retrouvez-Nous sur Instagram et Facebook 🌐
Nous publions sur Facebook et Instagram nos nouveautés, nos offres du moment! Rejoignez-nous!
Materials

- Toile en coton
- Fermeture à glissière métallique
- Tissu en coton
Dimensions

- Hauteur 18 cm
- Largeur 28 cm
- Zip métal de 40cm
- Anse en toile longueur mini 60 cm, maxi 115 cm
- Tissu coton imprimé
Maintenance tips

- Lavage à la main avec eau tiède savonneuse
- rinçage soigneux
- Essorage doux
- Séchage à l'air libre et à l'abri du soleil
View full details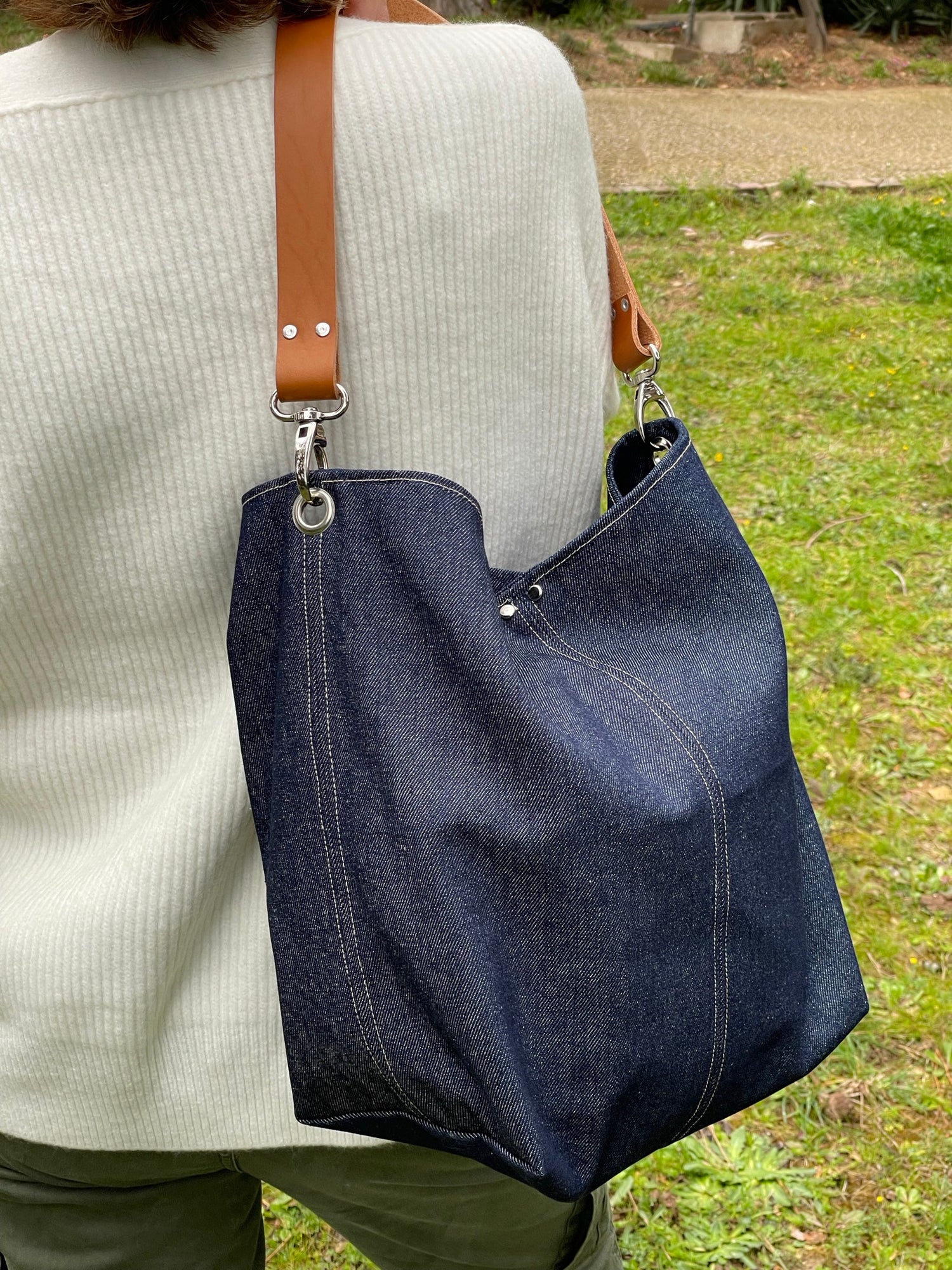 Current news...
The hobo bag , flagship model of the Lesfilsdisa brand ... A practical shoulder bag, a trendy look that comes in many colors to discover in the online store! Discover the brand new model in denim canvas !